Patient Care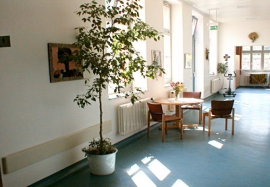 If you suffer from panic or severe anxiety, this is often associated with physical symptoms such as pressure in the chest, shortness of breath, palpitations, etc., even without having corona.
Get in touch with us! Clinic for Psychiatry and Psychotherapy
If you feel not only alone but also lonely and you feel sad and depressed, please contact us! We can help you! Clinic for Psychiatry and Psychotherapy
If you have suicidal thoughts, this is often a sign of a mental illness such as depression, which can be treated successfullyl.
So get in touch with us! Clinic for Psychiatry and Psychotherapy
If you notice a change in the way one of your family member thinks, feels and acts - if he/she is out touch with reality -then get in touch with us!
Clinic for Psychiatry and Psychotherapy
Our clinical tasks lie in the treatment modalities of acute psychiatry and crisis interventions, which are carried out within the framework of the regional care mandate for the city of Magdeburg, bio-psycho-social treatment strategies, the diagnosis of mental illness and special psychotherapy.
We have a distinct clinical focus on the diagnosis and therapy of schizophrenic, affective and dementia disorders and trauma-related disorders. Special emphasis is placed on the personnel, material and spatial equipment of the co-therapies, i.e. music therapy, occupational therapy, physiotherapy and sociotherapy, as these forms of therapy are important supplements to the treatment program as patients spend a considerable proportion of their inpatient time in such therapies.
For patients who can be treated in our institute outpatient clinic or university outpatient clinic, we offer continuity in outpatient to (partially) inpatient treatment by teams led by senior physicians. These are established for mental illnesses in old age, borderline and trauma sequelae, affective disorders, schizophrenic disorders and addictions.
In order to coordinate the work of the doctors and psychologists as well as the cooperation between the professional groups, to describe the processes and to keep the tasks in the clinic at a high level of quality, there is a binding guideline (service instructions).
Psychotherapy procedures offered in the clinic
- Cognitive Behavioural Therapy

- Psychotherapy Based on Depth Psychology

- Dialectical Behavioral Therapy (DBT)

- Strategic Short-Term Therapy

- Trauma Therapy (certified DeGPT), Eye Movement Desensitisation and Reprocessing (EMDR)

- Ego-State Therapy

- Schematherapy

- Hypnotherapy

- CBASP (Cognitive Behavioral Analysis System of Psychotherapy)

- Imaginative Catathmic Picture Life